Joffrey's Nutcracker Ballet Chicago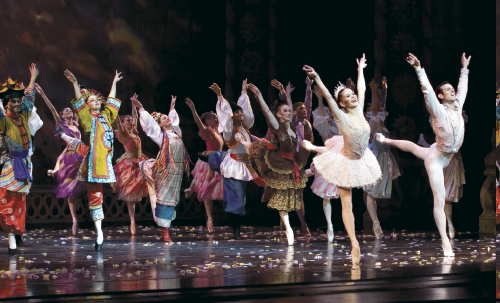 About The Ballet
The Nutcracker Ballet is an annual tradition in Chicago, and we wouldn't dream of letting the holiday season pass us by without seeing The Nutcracker as performed by the incredible Joffrey Ballet. Richard Joffrey put his unique spin on this play, Americanizing what was previously a very European piece of theatre. Joffrey has been putting on this annual show since 1987 and they show no signs of stopping any time soon!
The Core Audience
Much of the crowd consists of mothers and daughters, and this tradition has been passed on from generation to generation. Something about the romantic story of Clara and the Nutcracker just appeals to the child within, regardless of your age. If you are not familiar with the story, we'll give you a small glimpse into its beginning. (Don't worry, we won't spoil anything!)
An Introduction
To break it down into the most simple terms, a German youth named Clara dreams of a Nutcracker prince and his epic battle with the Mouse King. It all begins on Christmas Eve, in a grandiose home with an elegant tree. This really sets the tone for the rest of the performance. Keep in mind that this is not the type of holiday party that you are used to... this is a nineteenth century Christmas party with all its splendor, including period costumes that will make you wish for the traditions of days gone by!
The Nutcracker itself is a Christmas gift for Clara from her godfather Drosselmeyer. Something happens at the party that sets the rest of the events in motion, but we won't give away the secret here! You'll just have to enjoy finding out for yourself during the live performance!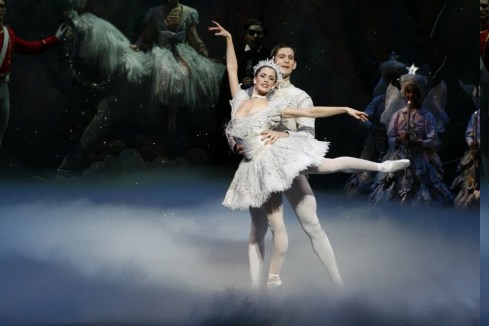 The Music
One thing that's not a secret is who composed the music for this exquisite play, and that's of course the famous Russian composer Peter Tchaikovsky. Even those who aren't fans of classical music will recognize his familiar melodies, and those sounds that were new in 1892 still sound so new today. This is a wonderful way to introduce your children to the beauty of classical music, and since they are watching an entertaining show while they listen, it's a much more fun experience than simply listening to a Tchaikovsky CD at home. The Chicago Sinfonietta provide the live orchestral accompaniment.
Where to Catch It & Why It's #1
You can catch this performance annually at The Auditorium Theatre, generally from the second week of December through the last. There's a reason that the Joffrey Nutcracker has been called America's #1 Nutcracker. There is no better performance than this.
Ticket Purchasing Information
The best place to buy tickets in our opinion is straight from the source, the Joffrey Ballet, but to do that you must purchase tickets by subscription. An entire season starts at just $75. Purchase a ticket subscription here. Second best, for individual performances, is Ticketmaster. Purchase via Ticketmaster here, or by phone at 800-982-ARTS. You can also purchase them in person at the Auditorium Theatre of Roosevelt University, Monday thru Friday from noon to 6:00 PM, at the Joffrey Ballet box office at Joffrey Tower, also Monday thru Friday from noon to 6:00 PM, or at any other Ticketmaster location.
More info: www.joffrey.com/nut
---
Other Nutcracker Performances
Though we most highly recommend the Joffrey Nutcracker, there are certainly many other wonderful ballet companies that put on their own version of this classic show. We love to see it put on by a different company each year. Take a look at a selection of our top choices right here...
Ballet Chicago's Studio Company
This troupe of amazing dancers puts on their show at The Athenaeum each year. The performances are much more limited than that of the Joffrey ballet, so you've only got a few dates to choose from. Be sure to purchase your tickets early. They go on sale in late October, and can be purchased at any Ticketmaster location, online at ticketmaster.com, or at the Athenaeum Theatre Box Office. You can reach them by phone at 773-935-6860 for more information.
More info: balletchicago.org/nutcracker.asp
Salt Creek Ballet Company
This is another pre-professional company that we highly recommend. They tend to get an early start in comparison to the other companies that we're familiar with, so if you're in Chicago in late November you can catch the performance then. This year they are holding the November performances at Hinsdale Central Auditorium, the early December performances at Paramount Theatre in Aurora, and the mid-December performance at the Center for Performing Arts at Governors State University. You can give them a call at 630-769-1199 for the most up to date ticketing information.
More info: saltcreekballet.org
University Ballet of Chicago
is comprised of mostly students, and they put on an unbelievable show. Unfortunately this year they are not putting on the Nutcracker show and have instead opted for Swan Lake and Peter Pan, both of which are excellent! If you are interested in purchasing tickets, you can reach them at 773-702-3414 for the most current information.
More info: uballet.uchicago.edu