If you aspire to be a professional dancer performing in renowned venues across the globe, or to be an instructor passing on the gift of dance to the next generation, there are no better schools than the two below at which to receive your training in the art of ballet. Should your ultimate career goal lie outside of dance, you can still learn valuable skills here, including but certainly not limited to discipline, confidence, and creativity. Children and adults alike will grow and flourish under the watchful guidance of each academy's incredible instructors. We highly recommend either one of the schools below!
---
Joffrey Ballet School Chicago: The Academy of Dance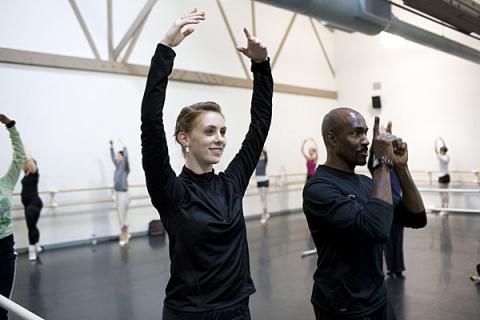 Though many know it as Joffrey Ballet School Chicago, the official name of the Joffrey Ballet's official school is The Academy of Dance. There is no other ballet school in our city that holds such an esteemed reputation amongst dance professionals. They accept students of all ages and all levels, so there is nothing barring you from receiving the absolute best ballet education that you can possibly find.
There are many different programs to choose from at The Academy of Dance, and you can find complete information about them on their website. We will give you a quick summary of each one. Please note that ages are approximate and are not by any means a hard and fast rule. Here they are:
- Trainee Program, ages 17 to 21
- Pre-Professional Program, ages 9 to 18
- Summer Intensives, ages 9 to 21
- Summer Camps
- Children's Program, ages 3 to 9
- Youth Program, ages 9 to 16
- Adult Open Division, ages 15 and up
- Master Classes, all ages
- Bridge Program, grades 1 and 2
Complete information about The Academy of Dance, The Official School of the Joffrey Ballet, can be found online at www.joffrey.com, in person at 10 East Randolph Street, or by telephone at 312-739-0120.
---
Ballet Chicago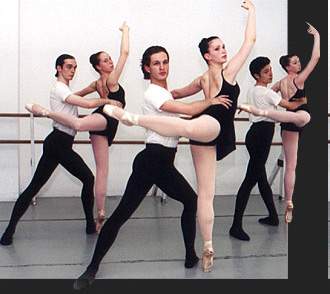 Ballet Chicago is highly regarded in the array of ballet schools in our city, and is focused on the Balanchine technique, established of course by George Balanchine. The environment here is nurturing and confidence-building, with a heavy focus on technique to prepare the students for a professional career in dance.
The curriculum at Ballet Chicago is divided into four sections, and the one that is right for you will be determined by age and experience. Here they are:
- Preparatory Division

- Creative Movement 1A & 1B, age 3
- Creative Movement 2A & 2B, age 4
- Pre-Ballet A & B, age 5
- Introduction to Ballet A & B, age 6

- Student Division

- Ballet 1, ages 7 and 8
- Ballet 2, ages 8 and 9
- Ballet 3, ages 10 thru 12
- Ballet 4, ages 12 thru 15

- Professional Division

- Ballet 5, ages 14 and up
- Ballet 6, ages 15 and up
- Men's Class

- Open Division

- Beginning Ballet, no previous training required
- Intermediate Ballet, previous ballet training recommended
Ballet Chicago also offers intensive courses and camps in the summer months, including a five-week Summer Course and a two-week Advanced Initiative. As the students progress in these summer programs, they are continually evaluated and may ultimately be selected for the annual program, and/or to join the Ballet Chicago Studio Company. Here is a list of the available programs:
- Summer Course, ages 11 and up, late June thru late July
- Advanced Initiative, ages 11 and up, late July thru early August
- Summer Camp, ages 4-7
- Audition Tour



Complete information about Ballet Chicago can be found online at www.balletchicago.org, in person at 17 North State Street, 19th Floor, or by telephone at 312-251-8838.